Celebs
DJ Khaled Is On Twitter Right NOW Dropping More Keys to Success
DJ Khaled (some say kha-leed) is top of the world right now.
His new album #GRATEFUL released on June 23 by his own record label, 'We Da Best Music Group' debuted at number one on the Billboard Top 200, certified gold by the RIAA. Three singles from the album's 23 tracks (a shoutout to Khaled's son Asahd, whose birthday is Oct. 23) are staples on mainstream radio playlists nationwide, a steady rotation of star-studded collabs including: "Shining," featuring the world's power couple Jay and Bey, the summer-vibe must have track for any BBQ playlist "I'm the One," featuring J-Biebs, Chance the Rapper, Lil Wayne, and Quavo, and lastly the Carlos Santana-sampled "Wild Thoughts," with vocals by Rihanna and Bryson Tiller.
Listen to Grateful below:
The Snapchat icon has been quick to praise his son for transforming his mindset and igniting his desire to create both hit music and a legacy for the 9-month-old who has a bigger bank account than all of us combined. Crediting him as the EP of the album, Khaled is making sure his son gets the prestige and the payday of having a mogul for a daddy.
The father-and-son duo graced the cover of the spring edition of XXL magazine, with Khaled waxing lyrical on Asahd's presence in the studio:
"First of all, Asahd, I work for him. Anything he want, he will get and I'ma teach him to work hard. Obviously on the album, I told my attorney to make sure [Asahd] gets his royalties, his shares as executive producer because that's my son and I think that's beautiful…When I look at Asahd, I look at me. I feel like, not only is he my son, he's a prophet. He's just bringing the energy to the table. And every artist I ever work with, it's like, "Where's Asahd?"
The music mogul was feeling particularly #blessed this morning, and took to Twitter to share more "🔑s to Success" with us peasants. Bestowing on us mere mortals the secrets to his mega success, all we (can) do is win, win, win no matter what.
Follow along with Khaled's rapid-fire truth bombs below: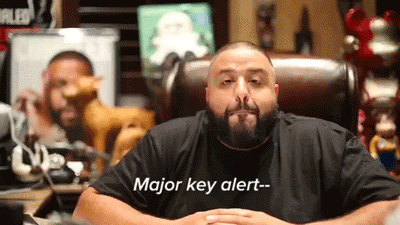 In the words of the man himself, "Baby, you smart. You loyal!"
"You a genius."